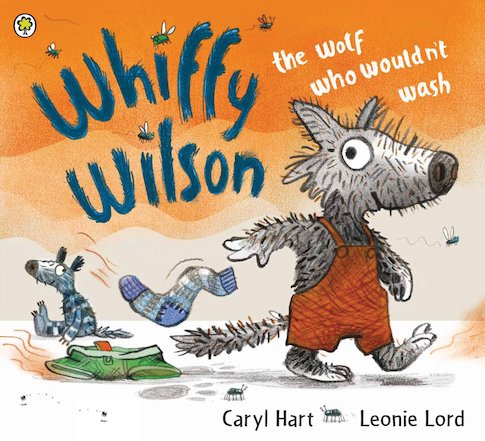 Eeeeuuw! What a stink!
Title:

Whiffy Wilson (the wolf who wouldn't wash)
Author:

Caryl Hart
Illustrator:

Leonie Lord
First Published:
Orchard Books 2011
This Edition:

Orchard Books 2012
Found:

Borrowed from library
What's it all about?
"There was a wolf called Wilson
Who never brushed his hair
He never washed his paws or face
Or changed his underwear."
Basically, this little wolf refuses to take care of his personal hygiene, so he is pretty gross! His mother tells him that he has to take a bath if he is to play outside but Wilson decides to run away.
A little girl named Dotty discovers him in her shed whilst she is looking for her toys, and decides to teach Wilson about personal hygiene and the difference between bad dirt and good dirt...
Review
A fantastic way to tackle the hygiene issue with young children. The verses are very funny and make the story flow easily.
I very much liked the fact that this book wasn't all about keeping clean, that it also touched on how getting messy in play is okay too; so long as the dirt is washed off after!
I was trying to find a way to explain the look of the pictures, and feel that cartoon, simple and "a chunky-pencil-coloured-in" appearance is as close as I can get!
Very child-friendly, bright, engaging and very much suited to the humour of the book.
The characters are lovely. Dotty giving advice is funny; as she drags him off to sort him out and Wilson has some habits that will make you (and yougsters) think (and probably say out loud!)
eeeeeeeeeeeeeeeeeeeeuuw!
I was very impressed with how the story covered the issue but in a simple and easy to understand way.
I have been trying to tackle some questions about germs from OJ. Whiffy Wilson explains it brilliantly! (Thank goodness!)
I would definitely recommend this book to other parents and those who are in child care settings who need to cover a "taking care of me" topic.
OJ
We have been talking about germs and why it is important to wash our hands/keep clean etc but also why it is okay to get messy.
OJ could talk to me about this whilst we were reading.
He enjoyed this book, especially if mummy exaggerated the voice of Dotty!
out of 5!