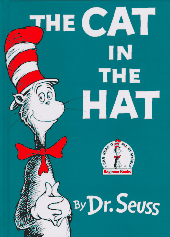 Cast your mind back to your childhood and your earliest memory of books, What was being read to you? What did you read for yourself? Chances are, that book is also loved by millions of children today.
Beatrix Potter, Eric Carle, Enid Blyton, Dr Seuss, Roald Dahl; these are but the handful of amazing authors that come to mind. Books that have stood the test time and have remained favourites. Favourites that I read to children, and those I read to my own.
I thought it would be cool to look at some of these authors in a bit more detail, followed by a review of one of their books.
Judith Kerr

Judith Kerr is the author illustrator of many well-loved children's picture books, amongst these are the the Mog the cat stories and the title "The Tiger Who Came to Tea"
I really loved the Mog series when I was at school, and remember them being read often at story times. I even remember drawing a picture of Mog for art with pastels.
Judith Kerr was born in 1933, Berlin. Her father was a drama critic and a distinguished writer whose books were burned by the Nazis. The family escaped from Germany in 1933 when she was nine years old. The family passed through Switzerland and France before arriving finally in England in 1936.
Judith dreamt of being a famous writer as a child, yet she only started writing and drawing books when her own children were learning to read.
Judith admits that she was"enchanted by the strangeness of cats" and the 17 books of Mog, were inspired by Judith's own cat (also named Mog) and her antics. (With some other cat stories from friends!) The children of the story, Nicky and Debbie have the same second names of her own two children and their father Mr Thomas was based on her husband.
She lives in London, the same house she has lived in since 1962.She says that since the death of her husband writing has become more important than ever
[
and she continues to write and illustrate new children's books with
Twinkles, Arthur and Puss
published in 2008 and
One Night in the Zoo
in 2009.
Here is a
link
to a short interview with Judith Kerr which I thought was lovely; she takes us into her work room where she creates her stories and illutrations.
Soon to follow: The Tiger Who Came To Tea review.